Your visit includes a two-course breakfast served daily in our spacious open-plan kitchen and dining room.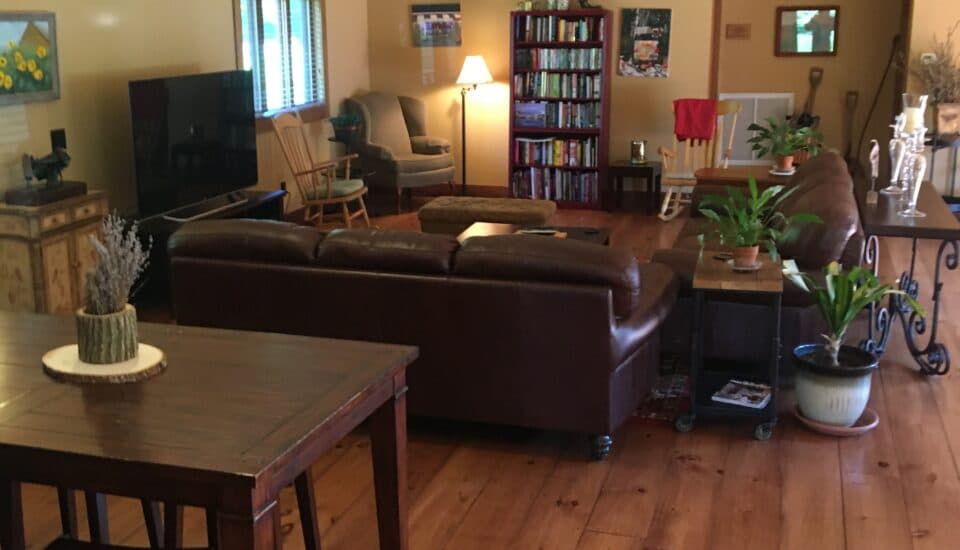 The Great Room
When you arrive, you'll cross the European-style gravel courtyard and enter the double doors to our Great Room, where we'll welcome you personally.
The 1,000-square-foot Great Room is the heart of Cedar House and a hub of activity. It features gleaming wide-plank hardwood floors, trim reclaimed from the original barn, and authentic wine-themed décor.
Here and throughout the building, you'll also find wonderful paintings and prints by local artists that capture the color and character of the North Fork A versatile loft-like space, the Great Room invites recreation and conversation but also provides a peaceful space
where you can relax, recharge and regroup.
For your enjoyment,
the Great Room offers:
Full-size regulation billiard table
Comfortable oversize leather sofas
52-inch flat screen TV
Wi-Fi access
24-hour self-serve coffee and tea station
Game table for cards, jigsaw puzzles and other
Quiet reading area with good lighting
Convenient powder room
RELAX

The Vineyard Lounge

Our more intimate Vineyard Lounge also features salvaged cedar beams and trim as well as furnishings selected just for the space. A celebration of North Fork Wine Country, the room opens onto a sunny south-facing patio and our vineyard.

EAT

Dining Area

We designed our dining area with an abundance of space, aiming to suit all of our guests' needs. There are five separate dining tables to choose from and the open kitchen allows us to cook and serve you and still be an active part of your gourmet breakfast.

NATURE

Outdoor Spaces

With just under three acres of land, Cedar House offers a true outdoor oasis. Our main courtyard is a great place to sit and read, or you can relax on the back patio amid the natural beauty of the North Fork.
Homemade Breakfast. Every day.
Comfy club chairs invite you to relax with a newspaper while awaiting your companions. The dining area has been designed for flexibility. Choose an intimate private table, connect with other guests or even join us at the breakfast bar while we prepare a creative home-cooked meal.
Each morning begins with seasonal fresh fruit, followed by our signature Cedar House home fries and that day's very special main course, which could be a sizzling cast iron skillet dish, seasonal French toast or delectable silver-dollar pancakes with a twist. Our inventive breakfasts emphasize freshness, flavor and presentation, and celebrate Long Island's farming tradition. We use locally grown and produced ingredients – everything from eggs to jam to goat cheese to herbs picked from our own garden.